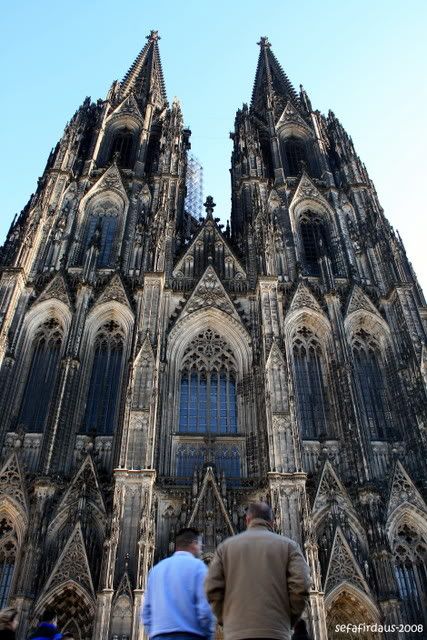 *click photo for better viewing

The Cologne Cathedral (German: Kölner Dom, officially Hohe Domkirche St. Peter und Maria) is the seat of the Archbishop of Cologne, under the administration of the Roman Catholic Church and is renowned as a monument of Christianity, of Gothic architecture and of the faith and perseverance of the people of the city in which it stands. It is dedicated to Saint Peter and the Blessed Virgin Mary.
The cathedral is a World Heritage Site, being one of the best-known architectural monuments in Germany, and Cologne's most famous landmark, described by UNESCO as an "exceptional work of human creative genius".[1] Cologne Cathedral is one of the world's largest churches, being the largest Gothic church in Northern Europe. For four years, 1880-84, it was the tallest structure in the world, until the completion of the Washington Monument followed by the Eiffel Tower. It has the second-tallest church spires, only surpassed by the single spire of Ulm Cathedral, completed ten years later in 1890. Because of its enormous twin spires, it also presents the largest façade of any church in the world. (Wikipedia)
Tiap ke
Köln
(Cologne), rasanya gak pernah bosen ngambil foto
Kölner Dom
(Cologne Cathedral) ini. Sayang, belum sempet mengabadikannya diwaktu malam. Next time, semoga!
---------


Picture taken in Köln, Germany
Saturday, February 16th, 2008